As opposed to the long-standing notion that inbound and ABM are poles apart or that they aren't compatible in any manner has seen new light based on recent studies and data. Especially, in the past few years, ABM has re-emerged as a vital strategy for B2B marketing. Companies have started to realise how using this targeted, calculated and effective strategy can help reach the high-value accounts.
Where does ABM stand today?
Statistics as per Terminus reveal that "more than 60% of companies plan to launch an ABM-based campaign in the next year". So, why haven't they so far? That would be because of the sales and marketing misalignment that has been a cause for failed marketing campaigns for many B2B businesses. As per HubSpot, "only 22% of companies consider their sales and marketing departments well aligned around the same goals."
Why should you care about ABM anyway?
The benefits of using ABM as a primary marketing strategy for identified, highly-targeted accounts are not unknown. But we'll list them down once again:
Better potential on high ROI

Personalised marketing opportunity

Diverted focus from marketing campaigns that don't always get you results

Shortens the sales cycle

Helps you align sales and marketing teams for a unified approach
So, how do you work with HubSpot for a successful ABM strategy?
As the inbound legend, HubSpot works on the grounds of first helping you create content that brings you leads and then using ABM, it helps you target highly-qualified individuals or accounts. Simple? Let's understand this process further with different HubSpot features that come into play.
As HubSpot puts it, to the best out of your ABM strategy, use the DIE (not literally) framework -
Define, Identify and Engage.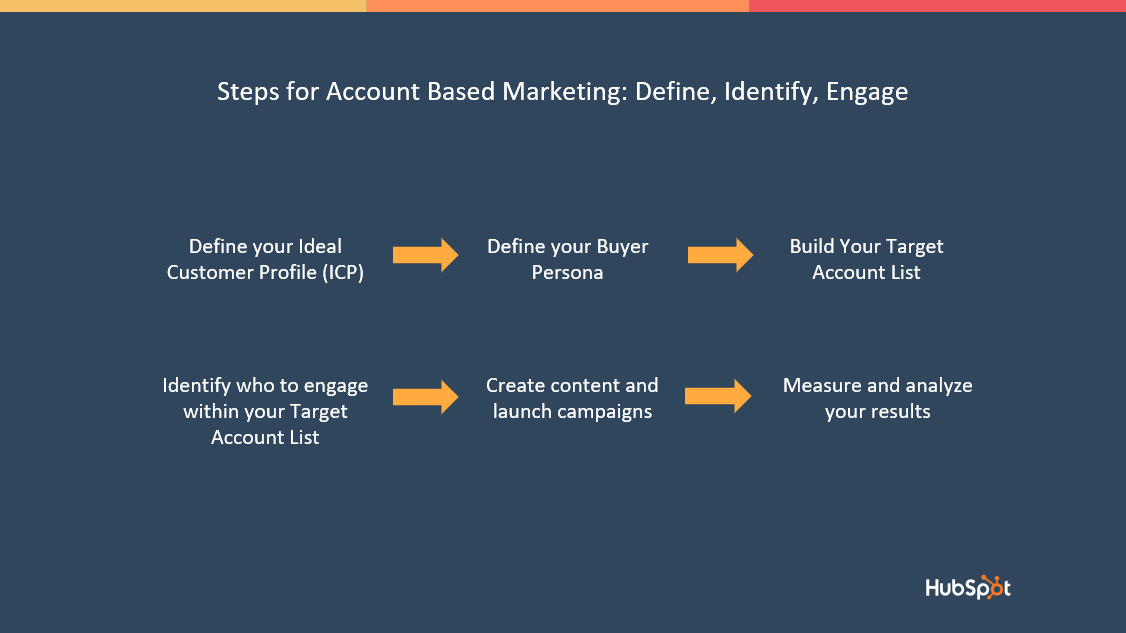 Images Source: HubSpot
1. Define
So here comes the first step, which some of you might still think is not crucial because of the number of times you may have already done it in the past but it still is, and requires that the sales and marketing teams work together. Both these teams need to be on the same page while deciding who you want to rope in using well-defined criteria, creating and publishing or sending targeted content and refining each step until you close the deal. Taking collective decisions on workflows, tasks, personalised message templates and CTAs is an important step in effectively taking that first step. Here are some HubSpot features to help you with that.
Picking key accounts with HubSpot's Company Records
Existing company data comes of great use in defining the targets from the right industries and the right organisations that you want to target. For identifying such organisations that fit your criteria, you need to closely look at your current customers who you have had the best business and most successful sales stories with. HubSpot's company records help you exactly with that. Once you identify key accounts, it also lets you find what's common among these customers, which eventually becomes the stepping stone to building your ideal customer profile.
HubSpot Insights for infusing valuable data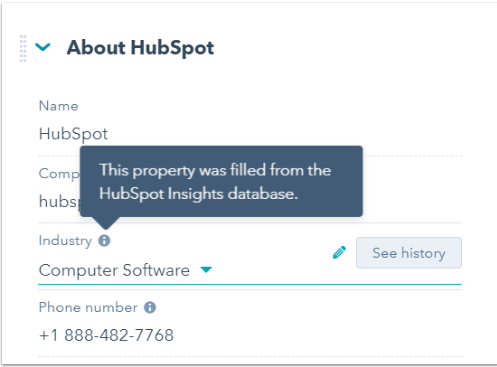 Image Source: HubSpot
Through HubSpot Insights, you can add relevant and valuable data for each customer you shortlisted using HubSpot's company records. You can use each company's domain name and HubSpot will extract data (both internal and third-party data), such as name, location, number of employees, industry, annual revenue, and so on and fit it in the properties of the respective companies. This way, you can define the characteristics of each company and identify target accounts easily.
Creating customer personas
Although ABM deeply focuses on ideal customer profiles, it is imperative to pay attention to creating the right buyer personas that explicitly define who you are trying to target. As your ultimate goal is to improve sales, what's great is that HubSpot can help you create and track your buyer personas where you can use this analysis and apply it to prospects for other similar ABM campaigns.
2. Identify
After defining your customers using specific criteria, the next step is to identify key customer accounts to direct your ABM campaigns. Here's how HubSpot can help you.
Creating Target Accounts List
Once your company criteria, ideal customer profile and buyer personas are well set up, the next step is to create a list of all your target accounts and add them to HubSpot. You can create a custom property for similar companies and have a customised filter to view them. It is important to note here that these customised properties are of great value when you are sorting active lists, synching audience, and reporting.
LinkedIn has been found to be the best way to target individuals and accounts to incorporate in your ABM strategy with its advanced search options.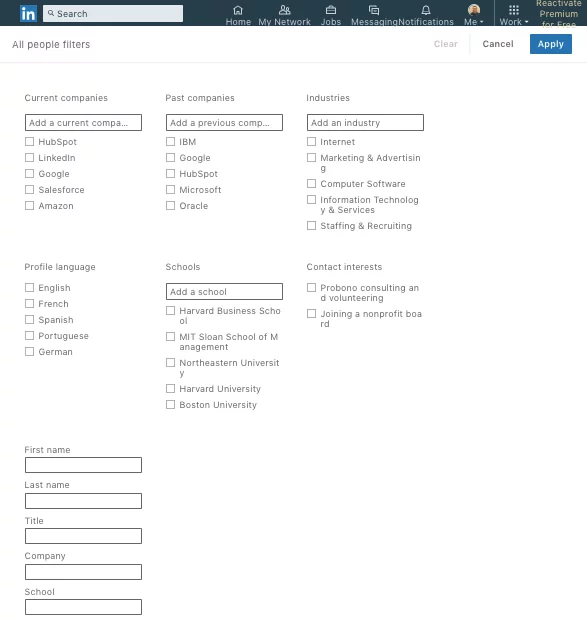 HubSpot App Marketplace for Integrated software
HubSpot's constant innovations for each and every step to make marketer's lives easier have led it to come up with some great and useful ABM-focused features as well, that you can directly connect to your account. One of these features is the predictive identification software, which as the name suggests, predicts the target accounts and helps in building your list along with identifying contacts within those accounts.
This information is then synced back into HubSpot. For other such features, you can visit the HubSpot App Marketplace to find the latest and updated features to help push your ABM campaigns further.
Lead scoring
HubSpot's Lead Scoring identifies and prioritises individuals as well as company contacts in the account list. While you are targeting different regions and personas, Marketing Hub Enterprise can help you create multiple unique scoring options that actually tell you how engaged the customer is with your company. The lead scores can also be utilised for report building and company scores. Once you have identified the highly-engaged customers, you can focus your ABM campaigns on them.
3. Engage

After defining and identifying comes engaging! Let's look at some of the HubSpot features that can help you through this stage.
HubSpot's social monitoring and ads tool
Social media is an inseparable part of ABM which can help you focus on putting efforts in personalised content. HubSpot's social monitoring tool can help you track your target accounts and understand them better for effective engagement. Similarly, paid ads have their own role to play in making ABM strategies successful. HubSpot's ads tool can track and engage new buyers who fit the selection criteria through Facebook and Google.
Personalised and relevant content sharing
This is where the real alignment between inbound and ABM takes place when marketing activities are used to send personalised messages to the contacts. Smart content and smart CTAs on landing pages and websites can be used for specific audiences to entice them into taking further action. Smart CTAs provide the opportunity to leverage useful offers at different pages based on the types of audience and the platform where they are most active.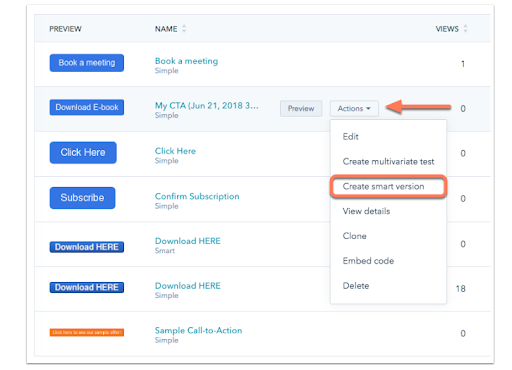 Image source: HubSpot
Measuring Results
As per HubSpot, "67% CMOs out there have trouble proving the ROI of their marketing efforts." Now, that's troubling! When it comes to evaluating the ROI, ABM proves to be ahead in the game as compared to other marketing strategies, however, it's also very tactical in the way you measure it. For example, answering some questions such as:
Are these targeted accounting engaging with us more as compared to before?

Has there been a spike in the revenue you generated from these targeted accounts?

Is there an opportunity to grow the list of highly-targeted accounts for further nurturing?

Can you easily identify individuals and accounts that can be retargeted further through either another ABM campaign or another re-marketing strategy?
Using HubSpot tools for ABM strategies can help you align your marketing and sales team better, increase their performance and get the best results you need. Ready to get started? Get in touch with us for a tailor-made ABM strategy for your business.